Park Superintendants Report 1915
The Superintendent presented his Annual Report to the Committee pictured below. He introduced his Report about Platt Fields as follows;

'Picturesque Approach to Platt Fields'
'The principal entrance to Platt Fields, situated in the crowded Wilmslow Road, indicates by its approaches that there is a countryside, and that at one time it has existed here, where tens of thousands must pass every day to and from business offices. A broad frontage has been added to the pittance of pavement, so as to preserve a line of fine old elm trees, one of the best decorative effects on our highways. The foliage is so luxuriant in summer that it makes a splendid sunshade, and a number of rustic seats enhances the attractiveness of this leafy and acceptable promenade. So do also the removal of the high brick walls bounding the estate on the north and east. There is now open a survey of an immense expanse of greensward, grateful and refreshing to the eyes that have pored over ledgers and accounts all day ; glimpses of the wooded portions; and at favourable times the goings and comings and the morning and evening devotions of the colony of rooks.'
Well I am sure that you would agree that does sound rather a little over the top.
Parks and Cemeteries Committee 1915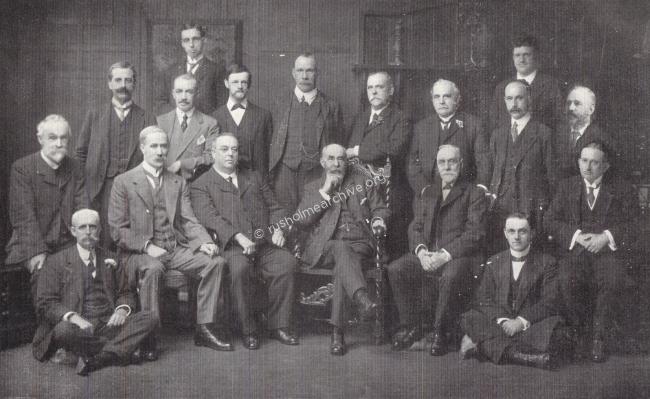 However the Report does give us some very interesting facts: Tennis was very popular, there were46 tennis courts with a total of 24,630 players, averaging 530 players per court. Forty acres was shared by football & cricket players. 26 football clubs shared 13 pitches, 15 cricket clubs shared 9 pitches. The lake had a total of 57 boats and it was noted ' Girls and women are among the leading patrons of this form of active exercise'!
Children were not forgotten, a half acre pond, 12inches deep was provided for them, in the school midsummer holidays Hulme sent hundreds to its cool and refreshing waters,
'The water crowded with little ones engaged in the delightful pursuit of splashing and wading'
Also during the summer months children from the very poorest and least healthy parts of Manchester were brought to Platt Fields for a day out. They were led in procession by a band & provided with a picnic enjoying the day playing ball games, skipping, fishing also proved popular. 'All the little guests were allowed a ride around the lake on the launches'!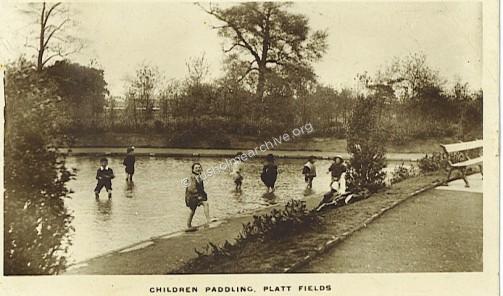 Tennis was very popular according to the 1915 Report and below is the Tennis Pavilion.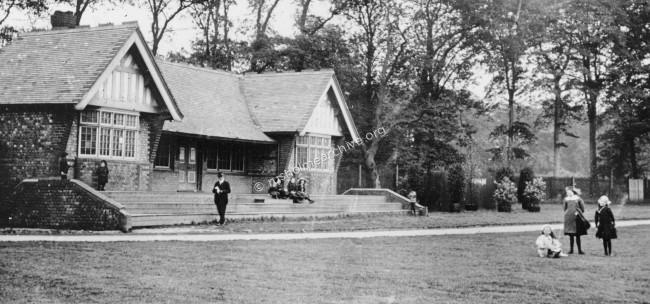 Remember! Wherever you see a 'Gallery' of smaller pictures as below then click on the picture and it will expand.
The Bandstand was situated near to Grangethorpe Road. You can see it clearly marked on the map below.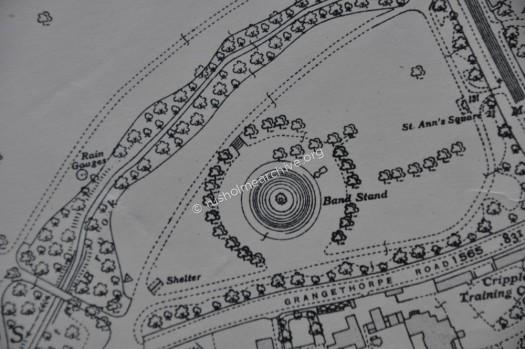 The photograph below of the bandstand is undated but would appear to be from the 1920's (?). There is an edited and closer view beneath, the photograph has been taken looking south and in the distance is the spire of Holy Innocents on Wilbraham Road.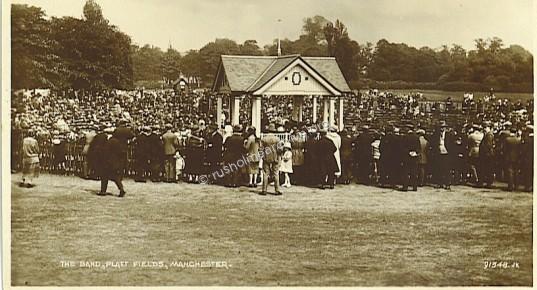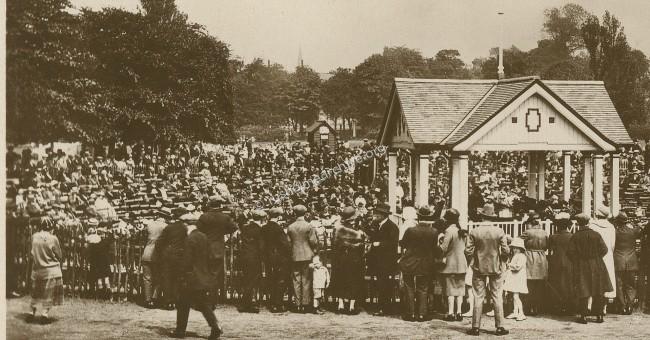 Music in the Park 1910 style.
The Parks Superintendent gave an extensive report about the various qualities of the Bands that played in the Manchester Parks. Here he draws attention to the 'Best Bands'.
'Platt Fields also shared the with Heaton Park the very best of the Bands during the summer months. This included bands from the Irish Guards, the Royal Irish Fusiliers and the Princess of Wales Hussars!'
'The best bands—local and special—go further afield for their music. They draw upon modern French and Russian composers, and are not afraid of Brahms, Liszt, Grieg, and Bizet.'
The Band Programme for June 6th 1914
Here are two programmes taken at random from the Whitsuntide performances of the Manchester Artillery Band in Platt Fields :-
Saturday June 6th 1914
AFTERNOON PROGRAMME—3 to 5 o'clock p.m.
1. March " Manhattan Beach " Sousa
2. Overture " Marinareclla " Fucik
3. Selection " Talcs of Hoffman " Offenbach
4. Dervish Chorus Lebeh
5. Spanish Dances ... Nos. 1 and 2 Mozkowski
6. Selection "Sullivan's Songs" Kappey
7. Piccolo Solo " Izetta " Green
(Solo Piccolo, Musician Redfern).
8. Selection " Boccacio " Suppe
9. Patrol " The Wee Macgregor " ... Amers
EVENING PROGRAMME—6-30 to 8-30 p.m.
1. March " Entry of Gladiators " Fucik
2. Selection " La Mousme " Caryll
3. Scene "Benediction of the Swords" ... Meyerbeer
4. Waltz " Roses from the South" Strauss
5. Cornet Solo "The Rosary" Nevin
(Solo Cornet, Musician Brammar.)
6. Hungarian Rhapsody No. 6 Liszt
7. Selection "American Songs" Tobani
8. Selection "Gondoliers" Sullivan
9. March " The Royal Artillery " Kent
Photo below is the Manchester Artillery Band