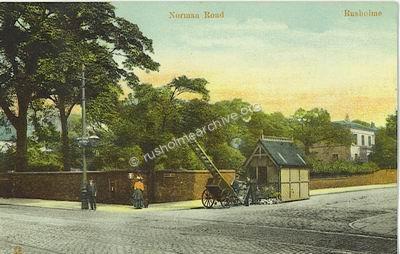 The colour postcard view above of the corner of Wilmslow Rd and Norman Rd is not uncommon. The image must date to the first year or two after 1900 because a note buried with a similar card in the Manchester Library 'Images' collection refers to the shed and ladders as the Norman Rd Sub-fire station, (manned 24hrs) that closed in June 1912.
William Royle refers to a Rusholme Volunteer Fire Brigade headed by a Captain called William James, the dating of this might be in the 1870-80 period. In the 1888 Annual Report of the Manchester Fire Brigade, the Superintendent, Mr Tozer, said the the Rusholme Volunteers, consisting of a Captain & five men, had rendered invaluable assistance.
The postcard view below in black & white is of much better quality, (expertly restored by fotofurbish.co.uk). I contacted the Greater Manchester Fire Brigade Museum at Rochdale, and one of the volunteers, Bob Bonner, ( a retired fireman), told me what he knew about how much a small substation like this could do.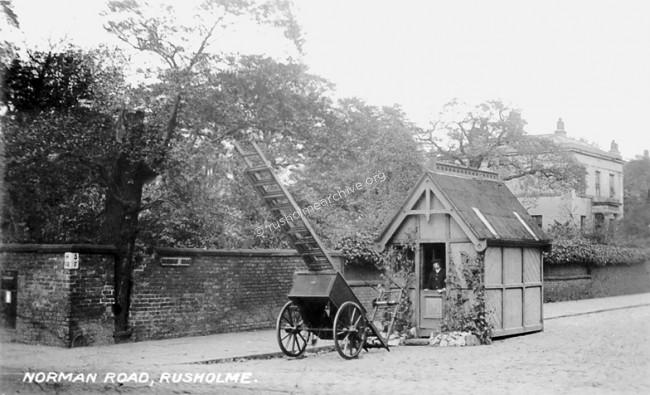 'Thank you for the splendid photo of the "street fire escape station" at Norman Road, Rusholme. These were erected in the mid-19th century around the city to improve lifesaving possibilities until the arrival of fire engines from the nearest proper fire station. The "escape" ladder was usually manned by one man, (nights only at first I believe) who would be sent out for the tour from his normal station.
I think 1912 is about right for its closure date, without checking up. The main reasons for the street stations being closed was the introduction of the street fire alarm system in 1911, which brought about quicker receipt of calls, also the introduction of horse-drawn escapes (hand-run prior to that !) and, ultimately, the introduction after 1911 of motor fire engines.
I also note the old-pattern Manchester wooden fire hydrant sign on the corner, very unusual in being "bent" around the corner. As it was made of wood, I presume it was sawn in two first and then erected on the corner to be more accurate in its directional information.

Thanks again for this and for your interest
With best wishes

Bob Bonner'
Greater Manchester Fire Service Museum
The photograph of a horse-drawn fire-engine below is certainly dated before 1906 according to Bob Bonner of the Greater Manchester Fire Service Museum. The photograph has been taken in the yard of the Jackson Row fire station, this closed in 1906 when the London Road Fire Station headquarters opened. This engine is perhaps the most likely that might have been sent to a fire in Rusholme - I wonder how long it would have taken from the city centre?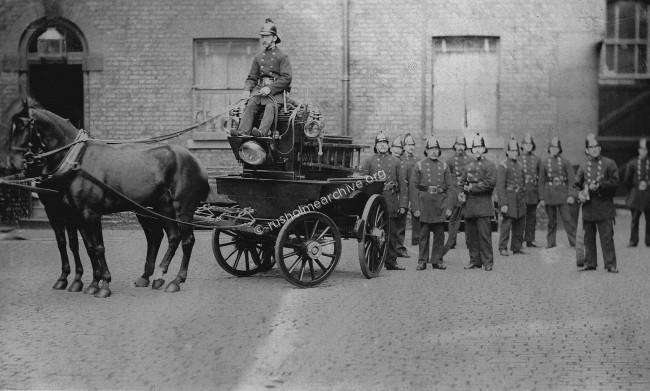 The photographs below have been very kindly provided by the Greater Manchester Fire Service Museum and again Bob Bonner provided the following notes of the fire engines that might have come to any fires in Rusholme.
'The first picture shows a1904 Morris-Magirus 82ft horse-drawn turntable ladder which served in the city for many years and went to all the big fires. It actually lived at London Road. The second picture is a 1914 Belsize/Morris pump of the type seen at all Manchester stations during that period, though the example depicted is from the north side.'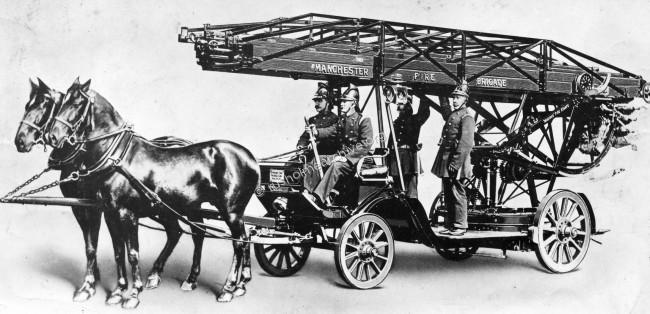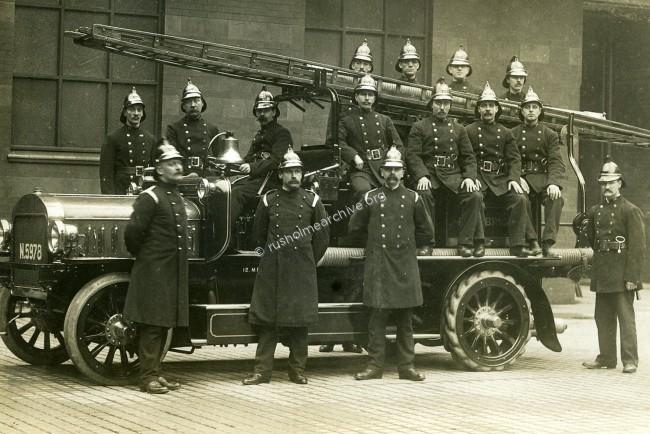 In the background of the Norman Road b&w photograph you can see one of the many moderately sized villas that were built in the district. The date of the house is uncertain but on June 11th 1851 an advertisement in a local paper is in classic Victorian language, 'A good plain cook required', apply Mrs Gill, 1 Norman Road! 60 years later it is referred to as 'Norman House', No. 1 Norman Road in the 1911 Census. It would appear at that time to have been in use as a Nursing home as the following extract illustrates:
WILLCOX,
Minnie Agnera Head Single 28, b.1883 Sick Nurse
COUPE, Mary Nurse Single F 22, b.1889 Sick Nurse
CLARKE, Jane Servant Single F 33, b.1878 Laundress
ABBOTT, Hannah Servant Single F 20, b.1891 Cook
ABBOTT, Violet Servant Single F 19, b.1892 Housemaid
BENNETT, Patient Married F 50, b.1861
Catherine Ellen
SMITH, Josephine Patient Married F 34, b.1877
GARTON, Sarah
Anne Patient Married F 65, b.1846
LUCAS, Emma Patient Single F 34 1877
CLOUGH, Horace
Mary Patient Married F 35 1876
The use of large old houses for use as Nursing Homes in Rusholme & Victoria Park was not unusual, remember there was no National Health Service as we have today. The large houses were also popular for use as schools, further along No.5 Norman Road was used as,'Young Gentleman's Day School', they were under the care of Henry Jones B.A.
No evidence at present as to date of demolition of Norman House.
Norman Road nursery. There is a plot of land marked on the map showing allotment gardens fronting Norman Road and to the west of the footpath, (known as Dead Mans Alley), that connects Dickenson Road to Norman Road. Perhaps this advert from a Rusholme Repertory Theatre programme dated 1934 is referring to a nursery on this site?

Professor Sir William Boyd Dawkins MA, FRS, FGS, FSA 1837-1929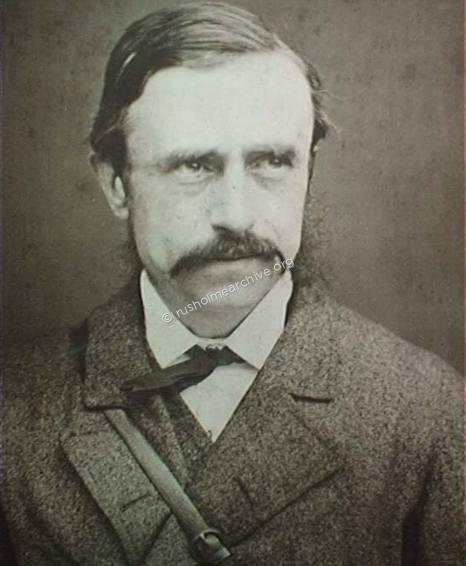 Further east on Norman Road a fine pair of villas were built circa 1850, Nos 9 and 11 Norman Road. These are still in private occupation and during the 1880s No.11 was the home of Professor Sir William Boyd-Dawkins.
Born in Welshpool he was the son of the Rev. Richard Dawkins. Educated at Rossall School in Lancashire he then went to Jesus College Cambridge where he studied both classics and natural science, graduating in 1860 and becoming a geologist. He was appointed curator of the natural history collections at the Manchester Museum in 1869 and became the first Professor of Geology at Owens College (then in Quay Street later becoming the Victoria University of Manchester in Oxford Road from 1872 until his retirement in 1909 aged 72 and was knighted in 1919. He became Britain's first Engineering Geologist and was involved in the coal industry, water-supply projects and the abortive Channel Tunnel project of 1880. He produced the geological report of the feasibility of the Manchester Ship Canal.
Dawkins was a fighter for workers' rights especially in the coal mining industry. He lobbied hard to get a better education system for miners similar to the ones established in Germany and he donated undisclosed sums of money to this cause. He also fought for compensation for people whose homes had been affected by subsidence from the salt mines and workings near Northwich, Cheshire.'
Should there be a blue plaque affixed to No. 11 Norman Rd?