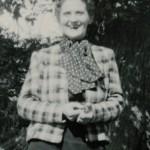 Norah Horrocks was born in 1904 and had lived all her life in Rusholme. As a young girl during World War I, she recalls a wartime childhood.
"I used to queue for food. I'd come running out of school and say to Mother; "There's a queue outside the Maypole [at the corner of the Walmer Street continuation] - they're selling half a pound of butter." Oh it was great having half a pound of butter, great. I had lots of experiences like that during the war. The Belgian Chocolate Shop on Wilmslow Road made beautiful chocolates. You could get a quarter when they had a queue. That was a great treat that was.
Casualties of War
There were ladies on the trams at the time and people weren't allowed to run motor cars, as the petrol was rationed, but there were always lots of ambulances on Wilmslow Road. We had a shop called Minshull's Sweet Shop in Walmer Street, and they sold all sorts of things. Well, there was a boy there my age, we were very friendly. I cried for three nights every night for he got killed on Wilmslow Road, crossing the road, knocked down by an ambulance.
At the time there were hospitals for soldiers all over the area. And the ambulances, you see, they came flying down the road, taking them to Grangethorpe, taking them to Ellesmere House, Newbury, Moseley Road School, and there was Heald Place School.
That was built for a school, but never opened as a school till after the war, because that's where I went. And we went instead to a tabernacle place, because the school building was turned into a military hospital. It was lovely inside, very suitable.
Then there was Grangethorpe which is now the High School - that's where you'd see the wounded soldiers sitting on the seats around. They wore a blue uniform then. I'd be given cigs to give to the soldiers sitting in Platt Fields.
My brother was a prisoner of war, taken on 21st June 1918. We eventually received a buff card saying 'Safe and Sound'. He escaped with two others, and they were taken in by a Belgian farmer. His first cup of tea - served in an empty salmon tin - he always said was the best cup of tea he'd ever had. But when he came back from the prison camp he told us, "I've never seen human beings treated like that, and I never want to talk about it." And he never did.
Playing in Platt Fields
I used to play in Platt Fields with all the boys and a bat and a ball, or else go what we call travelling. It's a silly thing to say, but there's a brook there - it's all railed off now, but it wasn't then. When I was a child we used to go, run backwards and forwards right through the tunnel into Birchfields. That was my summer holiday excitement. Mother would have gone mad if she'd known.
The Suffragettes
Some suffragettes lived in the road I lived in, Oxney Road, and there was a suffragette lived next door to us, Mrs. Ratcliffe. And they used to come up in the middle of the night, depositing these suffragettes into this lady's house next door. Mother had a very great respect for the work of the suffragettes - they were fighting for women's rights, you know. There was a hall in Old Hall Lane - the Exhibition Hall. Well, they set it on fire. And my mother remembered my brother and sister [my brother was 12 years older, my sister 5 years older] went to watch the fire. Great excitement. The hall was burned to the ground.
After the War
When the War ended there was so much elation. I was 15 years of age about, and I can remember standing at the corner of Wilmslow Street and Walmer Street, and the people shouting "The War is Over!"
As far as jobs were concerned when the came out of the war, there was very little work for men. And I can always remember this experience - I've never forgotten this. There was a picture house called The Oxford Street Picture House, a very popular one, and my brother told they wanted a commissionaire. By 8 o'clock in the morning there was a long queue. Work was terribly hard to get, terribly hard.
Another War Looms
I thought it was dreadful, absolutely dreadful. They had a walk for the peace movement. I once followed the peace movement, because I thought it was terrible, talk of war again.
And a friend of mine said to me - she was very academic, she was an MA, years older than me, a very wise woman - she said, "Are you coming with me? I am joining this meeting." It was held at a picture house. So I joined her.
And the Peace Pledge Union, held at the Friends Meeting House -1 remember going to one or two meetings, in fact I went to quite a few during my lunch hour, because they held them for the benefit of business people. And they used to last about half an hour.
I thought it was terrible. It was a very common belief - to think they were having to fight again. So there was quite a bit of peace activity."