Rusholme Theatre below, now a petrol station & Spar supermarket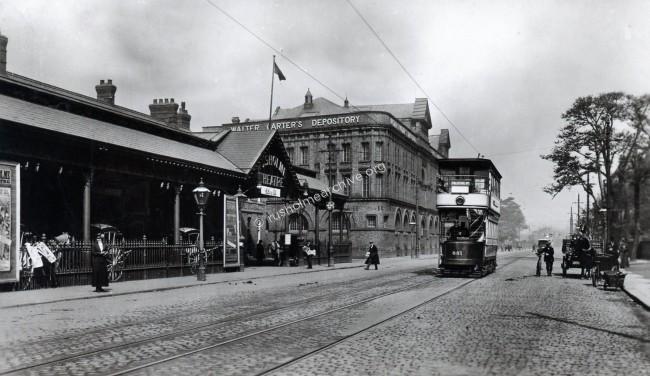 I would like to pay tribute to others before me who have written about Rusholme:
William Royle who 100 years ago published his History of Rusholme, (extended & revised in 1912);
John Shaw Buckley, the former Headmaster of Birch School who published in 1910 'A History of Birch-in-Rusholme';
More recently in the early 1970's Peter Helm & Gay Sussex produced 'Looking back at Rusholme & Fallowfield'.
Recently another book, published 2006, 'Rusholme & Victoria Park' by Jill Cronin & Frank Rhodes.
I hope that I will be able to continually add to, and update the site with more memorabilia & historical information about Rusholme & Victoria Park.
Friends to thank who have encouraged me and provide material & help with this website
I would particularly like to thank Peter Helm who has generously loaned many items from his collection & is always prepared to answer questions about the history of Rusholme.
Thanks to another friend in Rusholme, Stuart Bayley, who has also generously loaned some very fine pictures.
Harry Spooner in Rusholme is another colleague who provides every census question that I have with a quick and comprehensive answer.
Special thanks to Chris & Matt who set up the website for me at PagePlay, their knowledge and advice has made the website so easy for me to manage
Remember - You can search the website by entering a keyword in th search box at the top of each page
1833 receipt below from Luke Parkinson, grocer on Rusholme Road.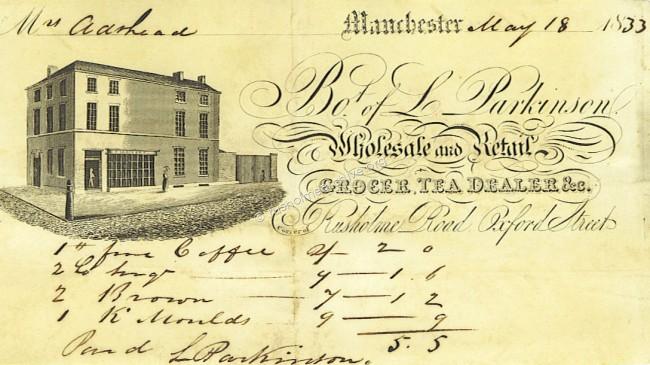 Cold cream of Roses from the Post Office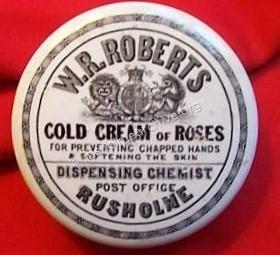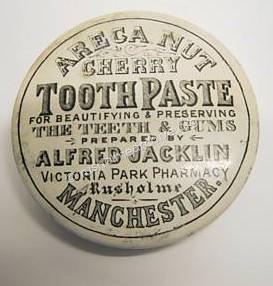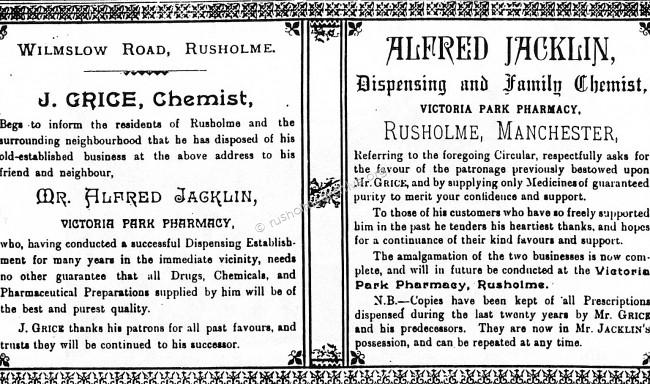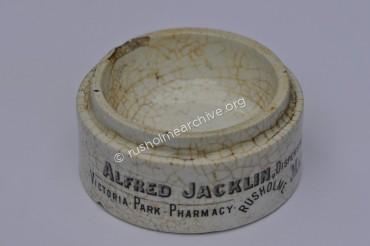 Further pages are planned that will include more about individual houses and residents of Victoria Park, Dickenson Rd through to Longsight and biographical information about William Royle.
If you have any queries or feel you can add more information please contact me,
Bruce Anderson.
Contact: admin@rusholmearchive.org
From the Birch Villa - an empty flask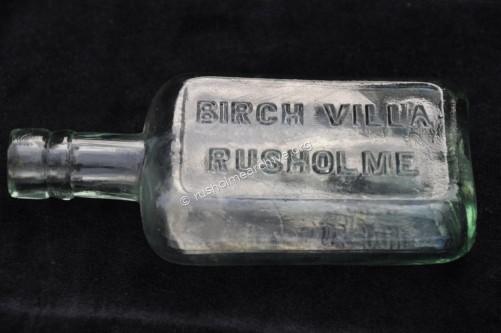 Hydes Brewery was in Rusholme before moving to Moss Side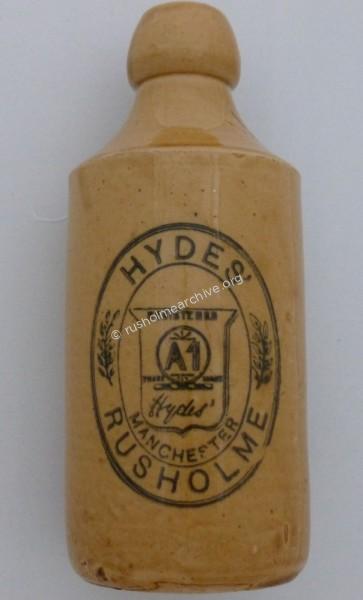 1934 Silver Watch Fob, Cup winners.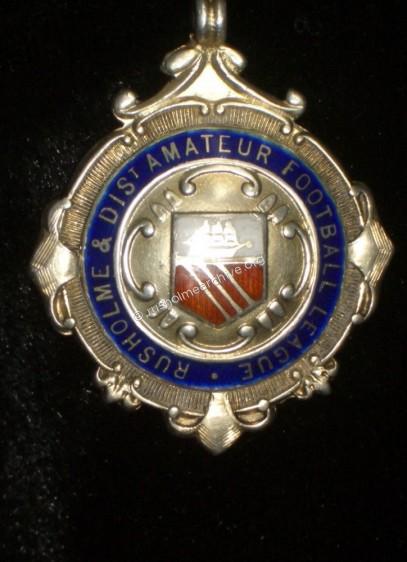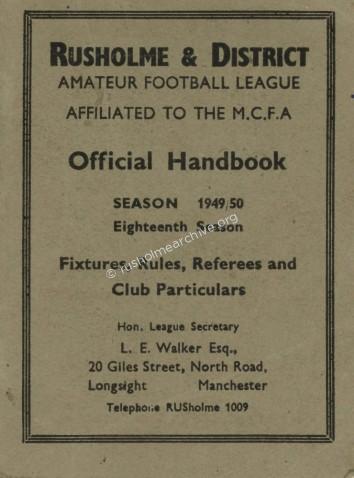 Click below to open this handbook and read in PDF format; handbook kindly loaned by Usdaw, the Trade Union whose head office on Fallowfield Brow fielded a football team called 'Oakley' between 1937 until 1969.
The Rusholme district covered football clubs in a 8 mile radius of Rusholme; In this handbook there are 65 clubs listed and amongst the teams are the names of some of the industrial companies that were in that 8 mile radius and who had staff playing in the Rusholme League.
The locomotive builders at Gorton, Beyer-Peacock, AVRO the aircraft builders, Crossley motors who built engines, cars, and buses are amongst the companies, church's and pubs that fielded teams in the Rusholme and District Amateur Football League.
Later in 2014 it is expected that USDAW will be donating the folder of the Oakley team to the Manchester Library Archives for all football historians to read.
'A little bit of cheek' ?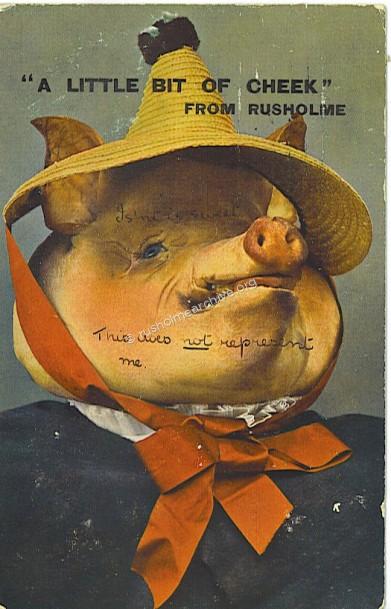 Picture Postcards - The e-mail, text or mobile phone of their time!
Many of the illustrations used in this website are picture postcards, they were cheap to buy, cheap to post & contained a short message that could be reliably delivered very quickly.
Now they are a wonderful source of illustrations!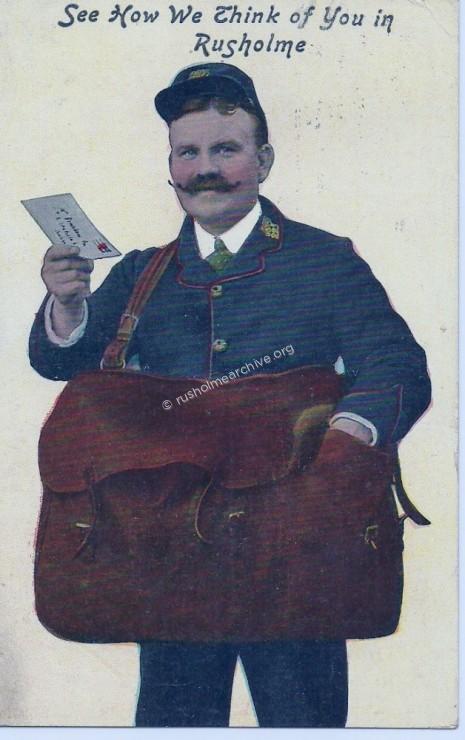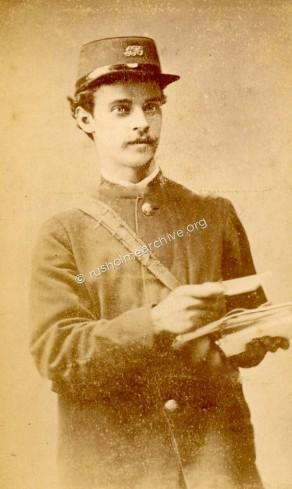 Wherever you see a 'Gallery' of smaller pictures as below then click on the picture and it will expand! On some pages you will have the opportunity to view other pictures on the Manchester Central Library Images website. This is a remarkable collection of city-wide photographs. After you have viewed that picture you will need to press the 'back button' on your browser to come back to this website.
On the next page - Who lived in Rusholme?, Why did a small village south of Manchester grow so quickly in the 19th century?