Holy Trinity, part of the Park?
Photograph by Helmut Petschler, 1865-70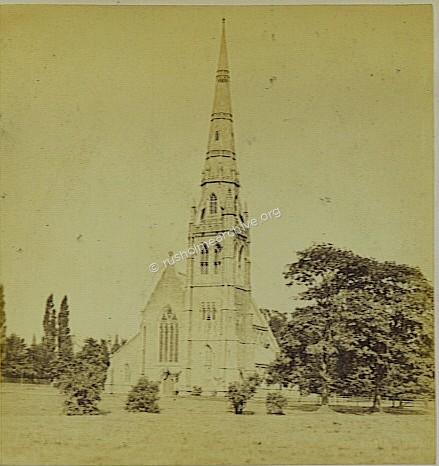 Holy Trinity Church was built in 1845-46, at the expense, (£3,600), of Thomas Carrill Worsley of Platt Hall. The Church was opened on Friday 3rd July 1846 by the Bishop of Chester. The new incumbent was the Rev. J. Currie.
The other major landowner in the district, the Anson family that owned the Birch estate, were also paying for the construction of St James Church at Birch-in-Rusholme, perhaps there was some rivalry between the landed families, both churches opening in 1846.
As Holy Trinity was built almost adjoining Platt Hall, (conveniently for the Worsley family to walk to), so it is often seen in views of Platt Fields.
The architect, Edmund Sharpe, used terracotta tiling for both the exterior and interior, a comparatively new use for this product. It did resemble stone, but some critics objected to the imitation 'stone'. The tall and graceful spire was also faced in terracotta, but this has been made by a different supplier and proved to be of poor quality, necessitating the spire to be re-built in 1912.
1946 Centenary Year, Souvenir Booklet
In 1946 the incumbent of Holy Trinity, the Rev Tom Darlington, wrote a small booklet as part of the Centenary celebration, the church having been opened in 1846.
I have scanned this booklet and you can download the PDF file and read it provided you have Adobe reader installed on your computer. Whilst this booklet is still subject to copyright I am hoping that Holy Trinity PCC, (as the probable guardians of the copyright), will not object.